Focused on document management. Passionate about productivity.
M-Files enterprise information management solutions are disrupting the ECM market by eliminating information silos and providing quick and easy access to the right content from any core business system and device. M-Files achieves higher levels of user adoption resulting in faster ROI with a uniquely intuitive approach to ECM that is based on managing information by "what" it is versus "where" it's stored. With flexible on-premises, cloud and hybrid deployment options, M-Files places the power of ECM in the hands of the business user and reduces demands on IT by enabling those closest to the business need to access and control content based on their requirements.
Sometimes finding the right document when you need it seems impossible. Where was that file saved? Who edited it last?
What if it didn't matter? M-Files organizes everything in one centralized place based on what it is, so you never have to remember where it's saved or which version is the right one.
Searching for (and finding) information in M-Files is simple and lightning fast. Search by document name, customer, document type, keyword, and more. M-Files even searches inside documents to make sure you can easily find anything you're looking for. And with efficient local caching, files open fast even with slow and unreliable network connections.
Dynamic views are virtual folders that organize information automatically. Everything in M-Files is organized by WHAT it is instead of WHERE it's stored, which enables you to manage and view documents and other items exactly how you want to.
M-Files integrates directly with the Windows Explorer interface – so there's no learning curve. You can access the document repository just like a disk drive, and drag and drop files into and out of M-Files in seconds.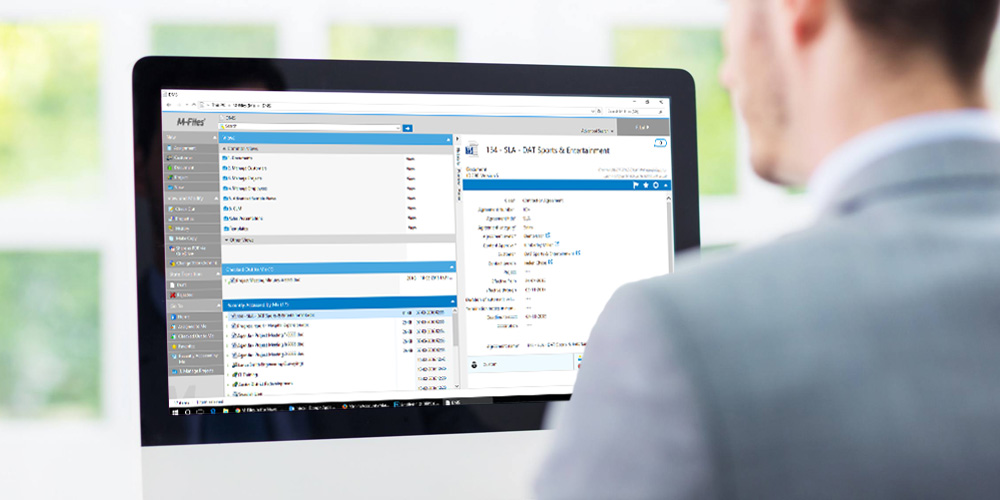 Sometimes work needs to get done when you're away from the office. M-Files allows you to access any document, anywhere, any time.  M-Files supports signing documents and objects with electronic and digital signatures. M-Files automated workflows streamline common business processes (like contract approvals, controlled content, invoicing, etc.) so you can stay productive and ensure compliance. M-Files automatically monitors each step of the workflow process and sends a notification when there's something that needs to be handled. It's simple, quick, and built in to M-Files.
Annotations and redlining capabilities enable any M-Files user to add comments to a document without modifying the original file. Tracking quality and compliance processes and verifying completion can be extremely time consuming. Maintain regulatory compliance and ensure product quality consistency with M-Files.